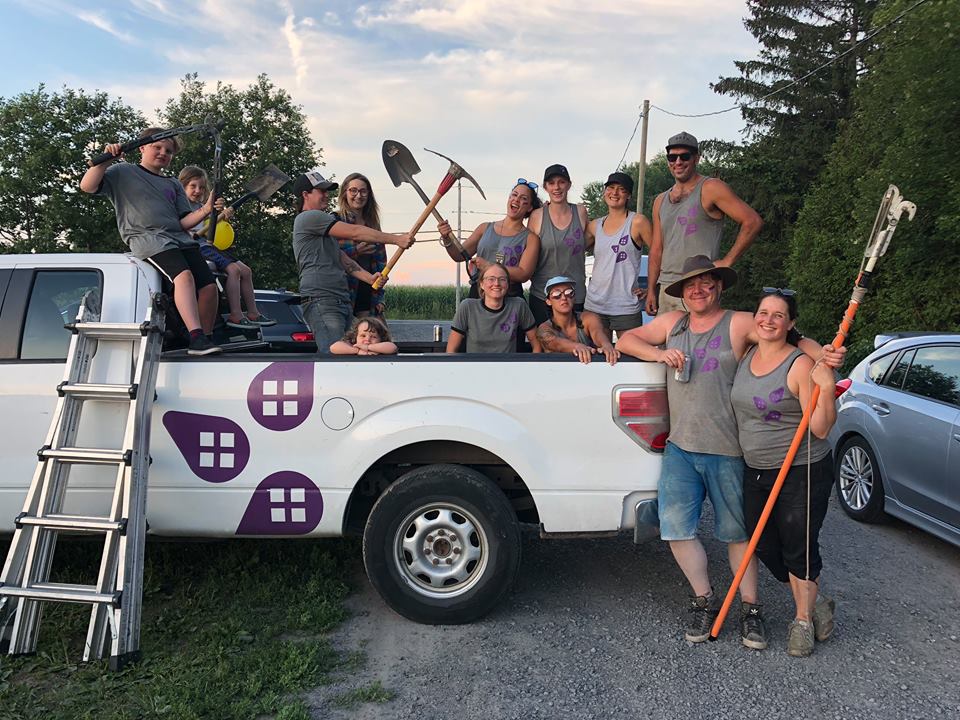 Be a part of the Urban Seedling team
We're always looking for work-hard play-hard live-hard kinds of people. We'll teach you all about building organic vegetable gardens in all kinds of spaces and creating edible flower beds as well as cultivating fruit in the city. Not to mention you'll get to work outside all summer long!
Urban Seedling is a family owned and operated business. We believe that locally grown food is something that can be enjoyed by everyone, contributing to a healthy lifestyle and a sustainable community. We install organic vegetable gardens in schools, daycares, at the workplace or in the home. We have the first (on-island!) greenhouse and store completely dedicated to edibles.
Urban Seedling Internship Program
Our internship program is for professionals looking for an opportunity to get into the field and work in the greenhouse, in urban agriculture and horticulture. The internship program is for individuals that have experience or are currently studying in horticulture or a related field. Interns are supervised by the Greenhouse Manager.
Tasks may include:
Potting and transplanting young seedlings
Caring for young plants
Seeding trays
Maintenance of demonstration gardens
Pest and disease control
Serving and helping with garden customers
Maintaining cleanliness of workspace (greenhouse and store)
Any other tasks assigned by Greenhouse Manager
Urban Seedling is a dynamic, high-paced working environment looking for like-minded individuals. Please send your CV to volunteer@urbanseedling.com and include a paragraph on why you would be the perfect fit for this internship.
Work at Urban Seedling
Who is a vegetable garden installer at Urban Seedling?
Vegetable Garden Installers (Installers) are people who enjoy the outdoors and hard work. Installers have a long history of physical jobs and many have a background in farming or tree planting. They are very physical fit people with a deep love and knowledge for growing food, and especially appreciate a good kale salad or Swiss chard stir-fry. Installers do not back down from a problem, are bilingual, possess great autonomy and maturity. Their tasks are installation, maintenance and planting of tasty vegetable gardens. They must have a valid driver's license for driving our Urban Seedling fleet. Vegetable garden installers work 40 hours a week starting mid April with spring plantings. Urban Seedling Installers are strong and determined minded individuals.
If you are a vegetable garden installer, please send your CV and cover letter to Tereska Gesing at
tereska[at]urbanseedling.com.
Who is a greenhouse director at Urban Seedling?
The greenhouse director is a productive individual with a love for growing food. They are competent and skilled workers that have experience in the production of seedlings and greenhouse management. The Greenhouse director enjoys being out in the garden and teaching others, as such they posses experience in facilitation and workshops. They relish opportunities to bilingually share their love of plants with others and thus excel in sales and customer service, and overseeing interns. Greenhouses assistants work 40 hours a week and have a valid drivers license. They are unique as they can do many different tasks in a day. The Greenhouse director are adaptable individuals who seize the day and the opportunities.
If you are a greenhouse assistant please send your CV and cover letter to Tereska Gesing at
tereska[at]urbanseedling.com.
Who is garden centre sales representative at Urban Seedling?
Garden deliverers and are detail-oriented, attentive people. They have a knowledge of ornamental and edible plants, organic gardening methods, have completed studies in horticulture, have worked in the field for at least two seasons. A valid driver\s license is a must! While having key skills in elaboration of garden plans, client management and a talent for customer service in both languages, their attention to detail means they are exceptional at caring for and keeping their truck and the workshop clean. Horticulturalists work 40 hours a week closely with their clients, providing personalized design and services as well as purchasing and sourcing any necessary materials.
If you are a Garden Centre Sales representative please send your CV and cover letter to Tereska Gesing at
tereska[at]urbanseedling.com.
Who is a landscaper at Urban Seedling?
Landscapers are strong and precise workers. Urban Seedling landscapers transform Montrealers' yards into functional and beautiful living spaces. They have at least 5 years experience in excavation, unistone and retention wall building. They have had a valid driver's license. Landscapers work 40 hours a week in various landscaping projects. They are bilingual and have a talent for customer service. Landscapers load, maintain and keep the vehicle and warehouse clean, and do not take kindly to people who do not keep the workspace clean. They keep order and are vigorous, robust individuals.
If you are a landscaper please send your CV and cover letter to Tereska Gesing at
tereska@urbanseedling.com.