Our comprehensive educational vegetable garden program for schools and daycare facilities includes all the materials, educational tools and support that you need to teach children about health, food, and life in a fun and interactive way.
Urban Seedling is a family-run business that creates and installs organic vegetable gardens in urban areas. Over the past five years, Urban Seedling has installed above-ground gardens in over 500 schools, residences and businesses, and has provided consulting services and seminars as well as organic seeds, seedlings and gardening supplies to people who care about what they grow.
In your garden kit you will receive all the materials you need to grow organic vegetables in a movable urban garden. Simply place the garden bag in a sunny location, fill with earth (available from any garden centre) and plant your selection of over 300 varieties of heirloom seeds. Subsequent seasonal plantings and weekly maintenance and harvesting add a fun outdoor activity to your curriculum. We guide you through the growing season with a planting workshop schedule, a weekly newsletter with tips, online information and blogs as well as live support. Urban Seedling makes it easy by providing everything you need to know to enjoy harvest after successful harvest!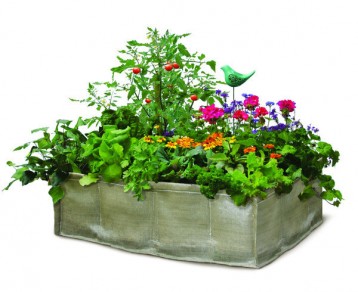 Package includes
1 Little Acre "Original" garden container
1 trellis set with poles and trellis netting
1 bottle kelp fertilizer
1 floating row cover
1 customized garden plan
24 heirloom variety organic seed packets
24 plant labels for keeping track of what is where
4 planting workshop curricula
1 subscription to Urban Seedling's newsletter and online video blog
1 live Skype chat planting workshop with a horticulturalist
Access to telephone support for any questions and tips.
Cost: $299 USD ($399 CAD) plus taxes and shipping
See some of our work at St. Andrews School
We also offer the NutriTower system for indoor gardening for $1100 USD ($1300 CAD) plus tax and shipping.